In keeping with our day's theme of
piffle
, witness the amazing
Typelyzer
(via Abu Muquwama.)


You merely type in the address of your blog, and the Typelyzer's algorithm divines the sort of person who wrote it. Your humble Ranger bloggers earned the label,

The Thinkers

. Us and Rodin. Here's what they say:
INTP - The Thinkers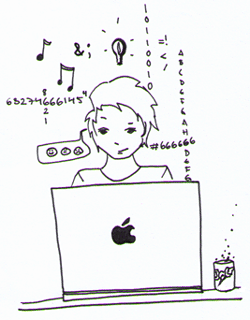 The logical and analytical type. They are especially attuned to difficult creative and intellectual challenges and always look for something more complex to dig into.
They are great at finding subtle connections between things and imagine far-reaching implications.
They enjoy working with complex things using a lot of concepts and imaginative models of reality. Since they are not very good at seeing and understanding the needs of other people,
they might come across as arrogant, impatient and insensitive
to people that need some time to understand what they are talking about.
If you go to their site, you also get to see a nifty visual which shows from what parts of our brain we are working. To test it, we also took a blog from the top and bottom of our list:
Alternate Brain
earned the title, "Mechanics" (Yea -- they are!), and poet
Mad Celt
earned the title of sensitive artist. So the 3-second assessment seems spot-on.
We have to say, this is us. We make linkages (sometimes wild) and we sometimes offend, though we never mean to. Blame it on a temporary lack of politesse. We're thinking about things, you see.
Labels: Ranger is a thinking blog, Ranger lacks politesse, rodin, typelyzer